Offering high-quality Paper Cup Machine, Paper Cup Making Machine, Paper Bag Making Machine that are known for their manual/automatic modes, good performance and reasonable prices.
About Us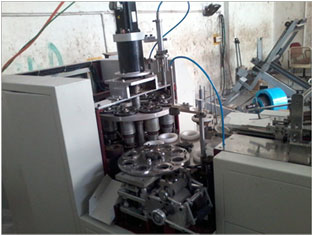 Founded in 1999, We, BHARATH MACHINES, Coimbatore,Tamil Nadu(India) based company is a leading manufacturer, supplier and exporter of Paper Cup Machine, Low Cost Paper Cup Machine, Disposable Paper Cup Machine and Automatic Paper Cup Making Machine. Made of the best branded components, these machines are 100% indigenous. Since last 15 years, we have been offering our machines to several prominent clients all over the world.

Over the years, we have continuously engaged in manufacturing process, technology and quality standards of our products like Paper Cup Machine, Low Cost Paper Cup Machine, etc. We have never compromise with our quality of components and other quality materials that go into our machines. We use high quality Indian components from Rolon, LGB, Siemens etc and only premium grade raw materials that are used to manufacturing the products. This led us to offer our machines that are good in performance and require less maintenance. Customers admire our machines for their features like innovative designs, strong wear resistance, long functional life, easy installation, user-friendliness and budget-friendly prices.
Why Us?

Client centric approach, Modern infrastructure
Timely delivery, Utmost client satisfaction, Affordable price
Exceptional customer service, We stand behind our work, Multiple options to choose from
Robust infrastructure, Multiple options to choose from Best market prices
Quality oriented approach, Customization as per client needs
Team of skilled personnel, Tie up with renowned market vendors
One stop supplier, Global presence
Long history since 1999
Leader in innovation / Leader in Innovation and Design
World leading manufacturer
Customized facility, Innovative range
Advance production methods
Prompt delivery of order & Ability to meet urgent orders
Highly qualified skilled professionals
Client centric approach & Transparency in deals